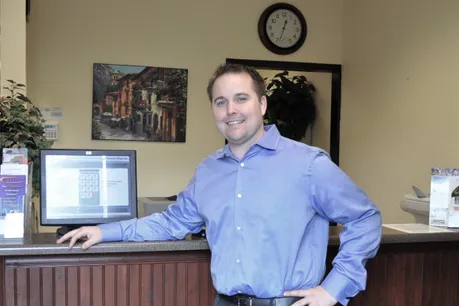 As a football player and wrestler growing up, I would suffer from neck and back pain. During a wrestling tournament I injured my neck. The pain was so severe I sought care with my Medical Doctor and was advised to rest and given a prescription for medication. It was not helping and I thought my sports season was over. A family friend advised us to seek care with a local chiropractor and that is when my life changed for the better.
After my first chiropractic treatment, I felt like a load of bricks were lifted off my shoulders, and I was quickly able to return to what I loved most - playing sports. At this time, I realized that drugs and surgery were not the only answers to having good health. There are safe and effective alternatives available, such as chiropractic care, which can change lives.
In 2000, I received my chiropractic degree at Palmer West College of Chiropractic. After graduating from chiropractic school, my wife, Aimee and I, decided to move back to our home town in El Dorado County to start a family and practice chiropractic.
Lowrey Chiropractic - El Dorado Hills Chiropractic Care
At Lowrey Chiropractic, we are a family wellness center and sports medicine clinic. We take a teamwork approach to your health - a partnership. We tailor our treatment plans to fit each individuals needs. We give options to our patients, so you can choose how healthy you want to become.
Ultimately you are in charge of your own health. It's our job to offer you the best chiropractic care possible, and you determine the level of health you want to achieve. With our teamwork approach, we find that people get better faster and stay better longer.
My background with chiropractic is diverse. I started my career working in medical facilities delivering chiropractic care and rehabilitative programs for chronic pain patients, where I treated thousands of patients with a variety of health conditions. During this time, I discovered that many conditions could be prevented with natural therapies, such as chiropractic, exercise and nutrition.
With certifications in the Graston Technique and Active Release Techniques (ART), I specialize in the treatment of soft tissue and sports related injuries. I am also a certified personal trainer through the American College of Sports Medicine for the past 20 years, and experience first hand the benefits of combining chiropractic care and fitness.
I have post graduate degrees as a Qualified Medical Examiner, Industrial DE, and I am also a member of the local El Dorado Hills Chamber of Commerce. When not treating patients, I enjoy cycling, swimming, running and spending time with my wife and children.
Thanks for visiting our site. We look forward to meeting you in person and learning how we may be of service to you. Give our office a call today at (916) 941-7508 so we can help you take your first step towards better health.
Dr. Judd Lowrey | Lowrey Chiropractic
El Dorado Hills Chiropractor | (916) 941-7508
4909 Golden Foothill Parkway, El Dorado Hills, CA 95762
Serving El Dorado Hills, Folsom & Cameron Park